NE-300 Just Infusion™ Syringe Pump




NE-300 Just Infusion™ Syringe Pump
Price:

$325

USD
Shipping Charges are added onto order



For USA Orders Only (AK, HI, PR: Call to place order).


For International Orders please visit our Distributors page.



InfusionONE Syringe Pump / 300 Series / 300-US.

$325.00, Plus shipping charges
Not for clinical use on humans.

Buy now


Description:

Just the features that you want, and none that you don't want to pay for.

Holds 1 Syringe from micro-liter sizes up to 60 mL. (140 mL partially filled)
Infusion rates from 0.73 µL/hr (1 mL syringe) to 1500 mL/hr (60 mL syringe)
Pumps continuously until you stop the pump
Infusion rate can be changed while pumping


Syringe purge mode
Power failure mode allows pump to continue pumping on power up
Remembers previous settings on power up


Easy-to-use keypad interface:
Set the syringe diameter, pumping rate, press Start
Selectable infusion rates units: mL/hr, µL/hr, mL/min, µL/min
Displays total volume dispensed in mL or µL units


Precise reproducible flow rates
Space Saving Chassis: Foot print size of only 5 3/4" x 8 3/4"
Won't take up unnecessary space on your laboratory or production bench
Operates from included 12VDC power supply.
Worldwide power supplies available


Disposable, Glass, Stainless Steel Syringes and Plumbing Supplies are sold separately. Pictured Syringe is for Demonstration purposes only.

Infuses Only!

Does not withdraw, no volume target, no computer interface or programmability.
Just the features that you want to pay for!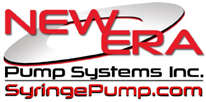 About Us
|
Contact Us
| © 2004 - New Era Pump Systems, Inc. | (631) 249-1392